Administration and Operations
Rajlakshmi Mallik
President & Head, Research and Training
Dr. Rajlakshmi Mallik is a development economist, policy researcher and an academic, with a rich experience of twenty
two years. A Ph.D. in Economics from Indian Statistical Institute Kolkata, she has a long-standing interest and experience
in policy-oriented development economics research on Financial Inclusion, Higher Education, Empowerment, Quality
of Life, Sustainable Development and Vulnerability Assessment. She also has extensive teaching experience in various
Economics and Management programmes. As Technical Advisor of SSESS, Kolkata, she recently led and concluded a
NITI Aayog, GOI project on Status of Women in Science among Select Institutions in India: Policy Implications. As
President and Head, Research and Training of C-DRAṢṬᾹ which was founded in 2015, she is steering the non-profit
research institution towards the realisation of its mission of Observe, Reason and Empower. C-DRAṢṬᾹ research team
under her able leadership has been consistently working and successfully completed projects in the areas of Green
Tourism and Organic Farming funded by the IPR Dept. Govt. of Sikkim along with other areas addressing social issues
such as tobacco use among adolescents, adivasi education, youth employment etc.
She also recently completed an Impact Assessment Study of Nanritam's 'Education for All' Programme (IAEFA – A
Report) 2023 and prepared a review report based on the IAEFA study and Annual Status of Education Report (Rural)
(ASER) 2022. She has worked and has been associated with several institutions of repute in India and abroad like
Burdwan University, NSHM Business School, Loreto College, Presidency Univerisity and Calcutta University. She has
published in national and international peer reviewed journals such as Journal of Theoretical and Institutional
Economics, Hitotsubashi Journal of Economics, Theoretical Economics Letters, International Game Theory Review,
Journal of Economic Research and others and has disseminated broadly.
She is an ardent lover of nature, wild-life and adventure tourism and anything that connects her with nature and
wellness. In her endeavours her guiding principle is that 'The situation is either good or there is a gap that can be made
good' through efforts based on the mesh of Method, Empathy, Sincerity and Honesty.
Sarada Ramamoorthy
Expert & Head Project Management & Corporate Social Responsibilities
Sarada Ramamoorthy is the Head, Project Management and Corporate Social Responsibility (CSR) at Centre for Development Research, Sustainability and Technical Advancement (C-DRAṢṬᾹ), Kolkata. She has handled secretarial & legal matters, Issue management, share registry administration and joint ventures. She actively participates in various social issues and is highly interested in adopting green practices in her lifestyle. She is a yoga enthusiast and has participated in State level yoga competitions and has received awards.
Sanjit Mitra
Expert & Head, Finance and Community Project Implementation
Sanjit Mitra has strong interest in Management, Liaison and Collaboration, field co-ordination, Team Management and Institutional building. He was an Assistant Branch Manager and as an Accountant in various sectors. Currently he is Expert & Head, Finance & Community Project Implementation. He is involved in various positions in community & work as well.
Suchismita Mullick
Project and Programme Coordinator
M.Sc. in Applied Psychology, University of Calcutta
Suchismita Mullick is responsible for overseeing the operations and management information system of C-DRASTA. She specialised in Industrial and Organisational Psychology and has survey and research experience in the field of Organisational Psychology and Health Economics. A very organised and perceptive person by nature she is fond of nature tourism, gardening, reading, history as well as current affairs.
Arnab Dutta
Project and Programme Associate
B.Com, Calcutta University
Arnab Dutta is responsible for providing managerial support for the day to day operations and various projects and programmes of C-DRASTA. He is a commerce graduate with experience in accounts and finance. A meticulous person by nature he is fond of gardening, reading and listening to music. He is a nature lover and has a keen interest in cooking.
Priyanka Saha
Research Operations Co-ordinator (February 2020-March 2021)
M.A. in Bengali, University of Calcutta
Samarpita Paul
Research Operations Co-ordinator (June 2018-January 2020)
M.Sc in Economics, University of Kalyani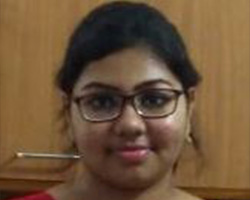 Priya Roy Chowdhury
Research Operations Co-ordinator (March 2016-December 2017)
M.Com, Calcutta University

© Copyright 2015 – | Drasta | All Rights Reserved | Powered by